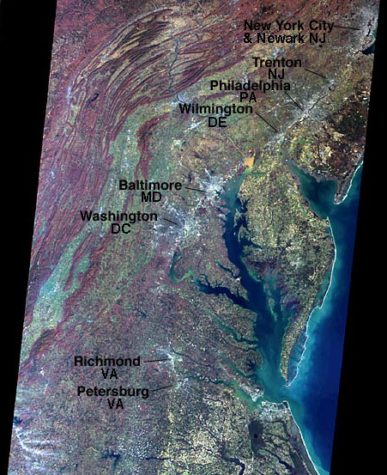 Above is a picture of the major cities of the East Coast. The very fine white area is called the "Fall Line".   Can weather really straddle a line? Does one or two degrees west or east of the line make a difference? The two answers is Yes, and Yes. If you look to the west of the "Fall Line",  you will see that the land rises-elevation. Temperatures are impacted by that small difference. In Philadelphia, it could be 34 degrees as a storm approaches. Fifteen miles west of Philadelphia in Montgomery County it could be 32 degrees and falling as a storm approaches.  You could have snow in Lower Merion, and rain in Center City-cold rain at that. In that case, if it's 34 degrees in Philadelphia you can rest assured it's 35 in Wilmington, DE almost a certain rain event as you can see Wilmington, DE almost is sinking in the sediment of the Delaware River.  Yet, at the same time, it could be 35 in Wilmington, DE and further north and west of Wilmington, DE in Chadds Ford just a mere 6-8 miles from Wilmington to its south could be startling the freezing line and could either bet wet snow or even just snow.
So, the weather follows I-95 because of I-95 changes in elevation. It's the strangest, but the most fascinating piece of geography that no other part of the country has.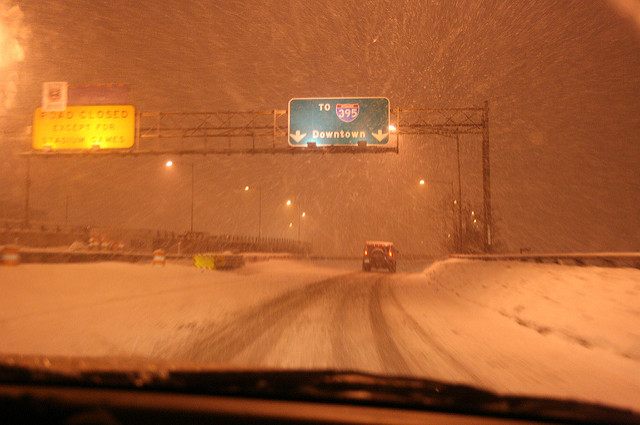 Snowstorm along the I-95. Arctic cold air is the solution if you want big snows in the megalopolis cities of Washington, D.C. to New York City.