This week's big weather news was in Tennessee.  Early Tuesday morning a line of streaming showers due to an elongated trough of showers and thunderstorms entered the Tennessee Valley. All-day  Nashville and the surrounding counties had been under heavy rain and some thunderstorms.  Little did anyone know what was coming later that evening.
Yet, the one agency that is supposed to inform and give the proper time protections misjudged the storms and this led to at least 25 fatalities, a spawn of several tornadoes of greater than EF-1 strength and one confirmed EF-4 which led to millions in damage, destruction, and all, in the middle of the night.
"It slipped through the cracks at NOAA, so, therefore, when there's no activation warning from their end, the community outdoor sirens do not activate," said Ronnie Pearson, director of Warren County Emergency Management.
There it is. An admission of failure on the part of the NOAA.  Folks in Warren County, Tennessee knew nothing of what was coming their way.  Little did anyone in the counties hit hard to know to prepare properly. There were strong thunderstorms or severe thunderstorms warnings but no tornado watches the entire day even though the severity indices showed the high potential. Nobody can know for sure. There was a 2 percent chance according to the SPC (Storm Prediction Center) in Norman, Oklahoma of tornado development all day, but that wasn't enough according to the standards of the NOAA in Nashville to issue anything but a severe weather statement all day. There were tornado warnings issued for the western part of the state but were canceled by 12:15am Tuesday morning.
Warning Coordination Meteorologist Joe Sullivan issued a statement saying conditions over south-central Kentucky were less favorable for tornadoes, but storm projections did support large hail and possibly a few strong to severe wind gusts. Sullivan did note that  " The storm that produced the tornado was not of the same type (supercell) that produced the tornadoes that night in Tennessee or near Crofton in northern Christian County, KY," explained Sullivan. "This tornado was the result of the intersection of storms moving in two different – nearly perpendicular – directions.  While the intersection of storm boundaries is not entirely uncommon, only rarely do they produce tornadoes."
Nashville Weather Service forecasters sniffed this out in their Monday morning update, writing "the primary risk appears to be hail, but locally damaging winds and even a couple of tornadoes would be possible should capping erode." It was a very low-probability but high-impact potential. Granted, you can't issue a tornado warning until one hits the ground somewhere, but even as the day wore on not even the slightest indication of a tornado watch was issued. Those can last up to 12 hours at a time.
A rapidly-evolving environment
As late as 10:35pm news outlets were still clamoring at the severity levels of the storm:
"Storm mode looks to become increasingly messy, with multi-cell clusters eventually forming into a broken line," the Nashville Weather Service had written in their meteorological forecast discussion at 10:14 p.m. "Damaging winds and hail continue to be the main concern, though an isolated tornado cannot be ruled out."
Thus, there it is. As late as 10:35pm the NWS still had more than two hours to give some people still up warning.
A  warning was finally issued for the Nashville metro area at 12:36am Tuesday morning.  The tornado hit at 12:41am. And a lot of people were asleep. And a lot of people didn't have an NOAA radio available.  Yet, what good is any of this if you are asleep.
This image shows the radar at the time the tornado entered Nashville which had NO warnings even though this debris ball (area in pink and purple with the white dots) of tornado induced debris traveled for 275 miles for 4 hours towards Nashville that started in the western part of the state.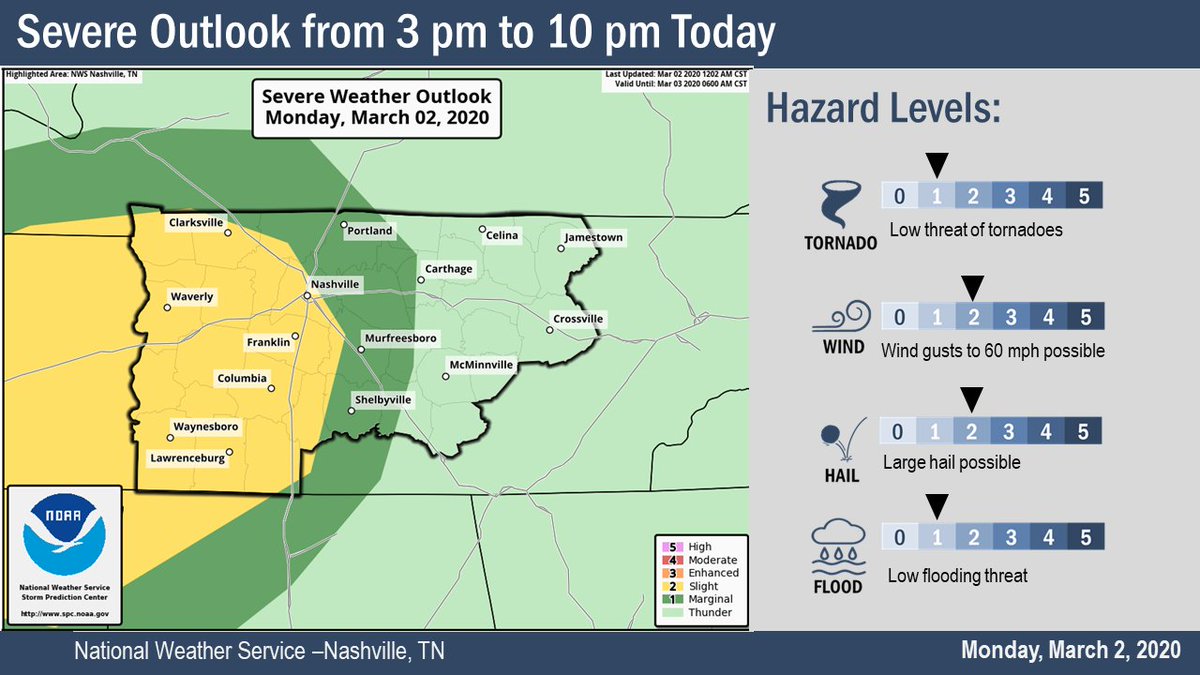 This was the TWEET earlier in the day on Monday which was put out. You can clearly see the areas in yellow had a "slight" risk of severe weather and those were the areas impacted. However, all other risk factors were higher except tornado development which stayed at a "low" threat.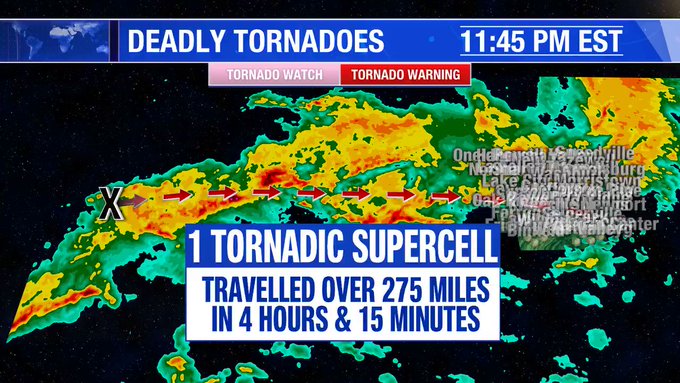 At 11:45om a tornadic supercell was detected on radar heading towards Nashville. STILL, no warning issued by NOAA at this point for the Nashville metro area.
Sources and Pictures from The Washington Post.   Matthew Cappucci Matthew Cappucci is a meteorologist for Capital Weather Gang. He earned a B.A. in atmospheric sciences from Harvard University in 2019  and has contributed to The Washington Post since he was 18. He is an avid storm chaser and adventurer and covers all types of weather, climate science, and astronomy.